Dubai, the glittering jewel of the United Arab Emirates, is a luxurious destination that draws millions and millions of visitors every year. There are hundreds of things to do in Dubai, from endless desert adventures to thrilling watersports at the beach, high-end shopping to dining at one of the finest restaurants in the world, exploring the culture, and venturing through the streets. Don't miss the excitement of indoor theme parks in Dubai, adding a unique thrill to your city experience!
Dubai has numerous theme parks each boasting its own unique and special characteristics to explore. This city has everything you can probably imagine, be it waters, virtual reality, rip-roaring rides, animal attractions in Dubai, and even snow. So, here are some of the top indoor parks in Dubai designed to entertain and amuse you.
Explore the Top Indoor Theme Parks in Dubai!
IMG World of Adventure
IMG World of Adventure is the largest indoor theme park in Dubai and the world, spreading over 1.5 million square feet. This park takes you to the fantasy world of Jurassic Park, featuring more than 20 thrilling rides and adventure games. These games and adventures are based on some of your famous cartoon and comic characters.
The theme park is divided into several zones, including Cartoon Network, Lost Valley, Marvel Universe, Dinosaur Adventure, IMG Boulevard, and the Haunted Hotel. Enjoy a thrilling, fun, and sometimes scary experience with your friends or family. IMG World of Adventure also has attractions such as Lazy Town, perfect for families.
LEGOLAND Dubai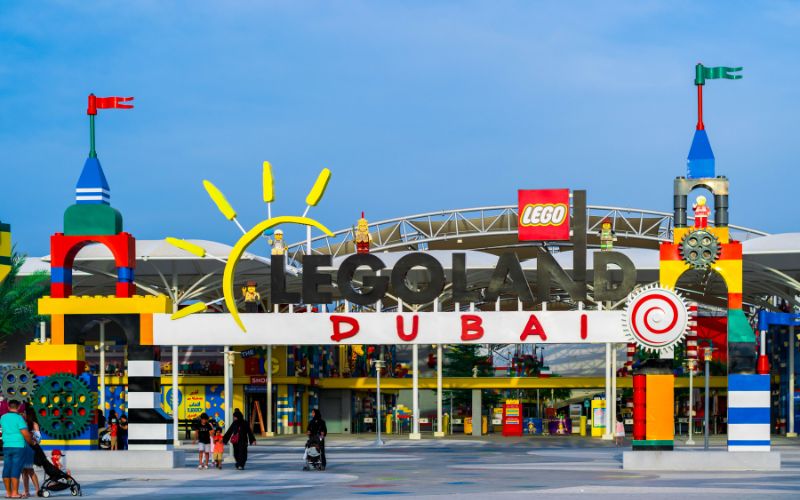 The only themed waterpark in the region dedicated to the entertainment of both adults and children, LEGOLAND Dubai is a must-visit. Located at the Dubai Parks and Resorts, this theme has everything to entertain you.
LEGOLAND offers more than 35 rides and several play areas to keep your little ones busy. The theme park also features some exciting shows for kids and demonstrates the steps for building with Legos. The kids can tour of the Lego Factory where they can explore and learn how Lego bricks are made. Moreover, you can also visit the Big Shop, the largest Lego store in the Middle East.
Motiongate Dubai
Inspired by Hollywood Studios, the Motiongate Dubai theme park takes you to the world of innovation and storytelling. It has attractions and rides depicting the most popular motion picture studios, such as Hollywood DreamWorks Animation, Lionsgate, and Columbia Pictures.
Motiongate is known as Hollywood in the desert, where the park is divided into four themed zones. These zones are elevated by some of the popular Hollywood giants from the three studios. About 27 themed rides and attractions offer an excellent cinematic experience for the entire family.
Ski Dubai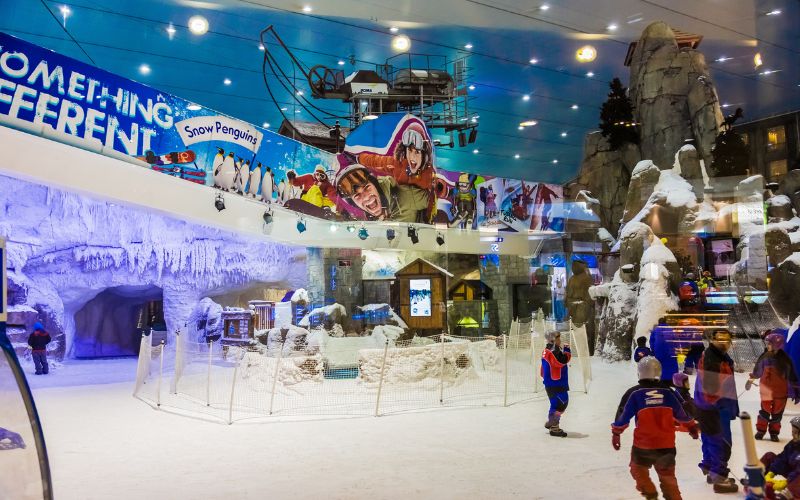 Ski Dubai, located in the Mall of Emirates, is the first indoor ski park in the United Arab Emirates. This park features a freestyle zone where you can enjoy and try your guts for real adrenaline adventures.
Ski Dubai maintains a steady temperature of -2 degrees Celsius to avoid the ice melting from the scorching heat of Dubai. It covers an area of 22,500 square meters and has five slopes of varying difficulty, gradient, and height. So, it does not matter whether you are a beginner or a seasoned skier; this indoor theme park in Dubai has everything for you.
Magic Planet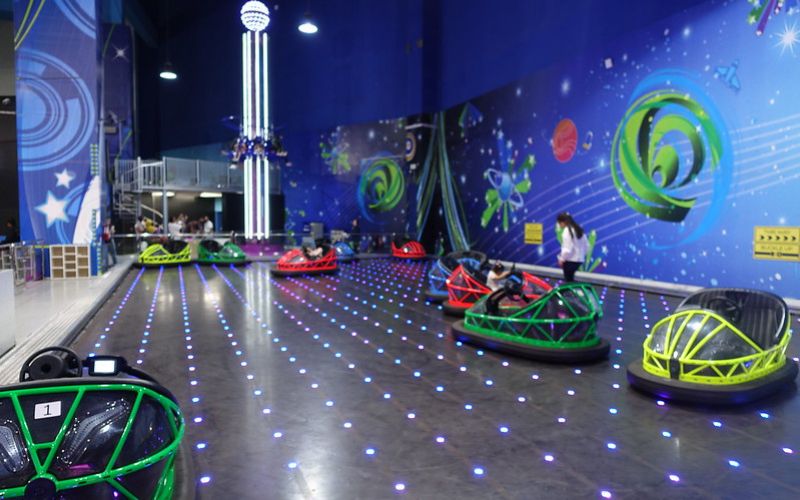 Another attraction within the Mall of Emirates is the Magic Planet, a beautiful indoor theme park in Dubai that is spread over two floors! It is among the most popular arcade game parks loved by locals and tourists.
The theme park includes games, attractions, and activities for all ages. Magic Planet is also home to the first 4D cinema in the United Arab Emirates. You can find several play areas for your kids and pool tables. There are also bowling alleys, 12 ten-pin lanes, and plenty of food outlets to recharge you for the next game.
Kidzania Dubai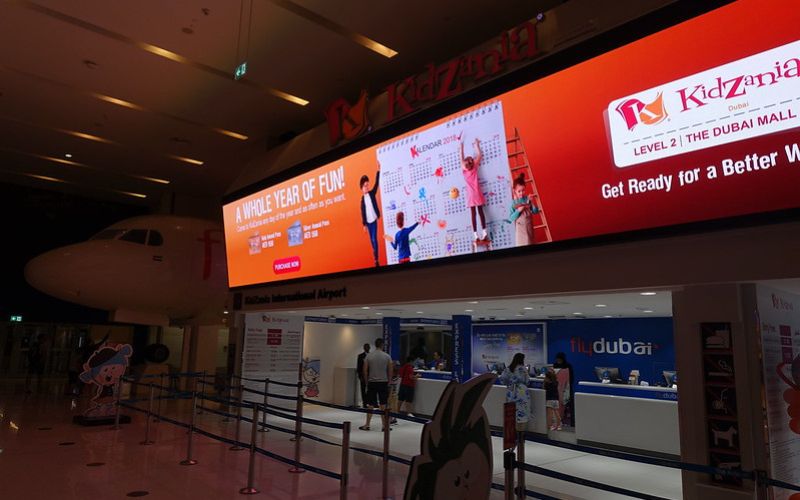 An indoor theme park inside the Dubai Mall, Kidzania is an absolute love among kids. This edutainment park caters to children aged two to 16 years old. This theme park is unique and probably the only place your kid can be whatever they want and try their favorite adult job.
Be it a doctor, baker, pilot, firefighter, or teacher, your little ones can experience their dream job in an interactive and fun-filled environment modelled like a tiny city with all the facilities, including hospitals, ATMs, banks, and much more. And for the best part, they get paid too!
Riverland Dubai
The River Land Dubai is one of the major tourist attractions in Dubai, known for its four popular zones: the French Village, the Boardwalk, India Gate, and the Peninsula. Each of these zones offers a unique essence of the medieval era.
The French Village takes you back to Europe from the era of the 16th century, showcasing classical French music and olive trees. The Boardwalk leads the way to the Motiongate and gives a glimpse of 1950s America. India Gate offers a Bollywood twist, and the south-eastern delicacies of the 1920s and the Peninsula take you to 19th-century England.
Dubai Garden Glow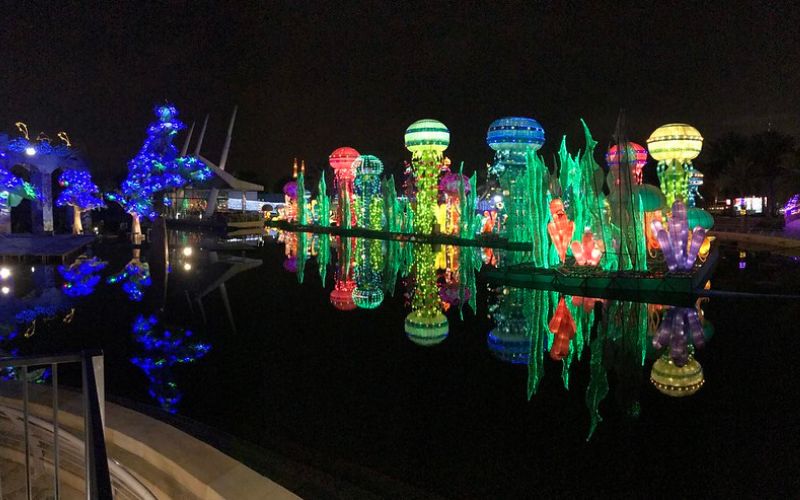 Dubai Garden Glow is one of the world's largest theme parks, with distinctive concepts and unique backdrops. The park shines with magical exhibits, ice carvings, illuminated models, mammoth figures, and more. These models and animated figures are crafted using recyclable products.
Dubai Garden Glow comes up with new innovations every year that amaze visitors.
There are a number of indoor parks in Dubai that are popular for their own charm. You can choose from any of the above, or explore them all and experience the most magical and thrilling moments of your life. So, if you plan to visit Dubai, don't miss out on these.
FAQs
1. What is the best time to visit indoor parks in Dubai?
You can visit these indoor parks at any time of the year.
2. Can I buy the tickets to indoor theme parks online?
Yes, absolutely! You can easily buy them through the official website of the park.
3. Are there any height and weight restrictions at these parks?
Yes, but they vary from one park to another.
4. Can I carry food from outside the parks?
Most parks do not allow you to bring food from outside the park.