Whatever Dubai does, it does big. From the world's tallest building to the world's biggest frame, Dubai loves to make and break records and the city has even made huge zoos. Zoos are a great place to have family fun, plus you get to learn about animals in Dubai and see them in person. But there's something better than a zoo and that's a petting zoo! Petting zoos are great for kids. It instils love and respect for animals and takes away fears. So, if you are holidaying in Dubai, make sure you also check out a good petting zoo in Dubai. Here are the best petting zoos in Dubai. 
What are Petting Zoos?
A petting zoo is a place where you can pet and interact with small and docile domesticated animals. These animals usually consist of pet animals like cats, dogs, and birds, and farm animals like chicken, ducks, baby goats, and sheep. Most of these animals are mild-mannered, so it's quite safe to get your kids here. In fact, petting zoos were started for kids to meet and greet cute animals and learn about them.  
Top Petting Zoos in Dubai 
Dubai Safari Park
The Dubai Safari Zoo was renamed to be a Dubai Safari Park once it was revamped, and one thing that came with renovation was a petting zoo. Called Kids Farm, this zone is a petting zoo dedicated to kids. Parents can bring their kids here where they can interact with animals like ponies, camels, goats, ducks, sheep, and other similar farm animals. The kids can also feed these animals. 
At Dubai Safari Park, the Kids Farm is a fantastic spot for young adventurers. Please note that it follows specific timings, opening from 9:00 a.m. to 5:00 p.m. This means it closes a bit earlier than the other sections of the park. If you're planning a visit, be sure to check the timings and plan your day accordingly, ensuring you make the most of your time at the Kids Farm and other attractions within Dubai Safari Park.
Location: 5CCW+H5 – Al Warqa 5 – Dubai – United Arab Emirates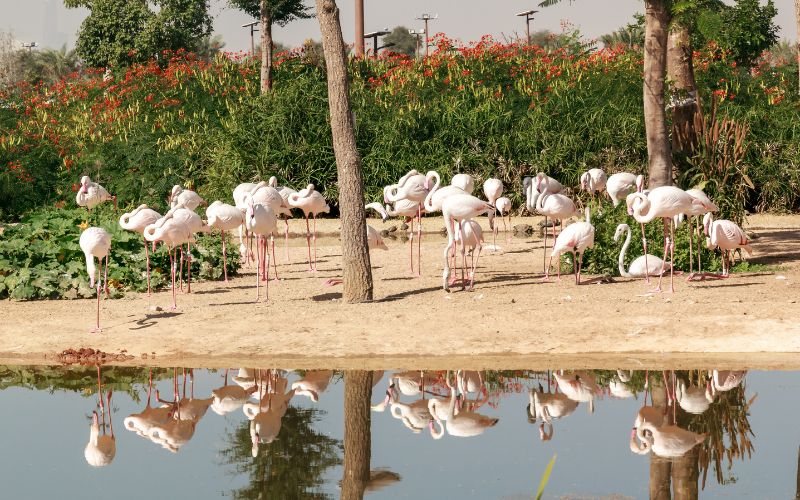 Desert Oasis Petting Farm
Arguably the best petting zoo in Dubai, the Desert Oasis Petting Farm is located in Al Khawaneej and has a variety of wonderful farm animals that you and your children can pet and feed. You can even pet donkeys and deer, which aren't available at other petting zoos. You can also have your kids' birthdays here along with their friends. There's a separate section which you can book, and your guests can also pet the animals. Now that's a great way to have an unforgettable birthday. 
Location: Desert Equestrian Club, Behind Dubai Municipality Vet Clinic, Al Khawaneej, Dubai
Timings: 
Winter Timings – Monday – Thursday: 3 PM – 6 PM
Friday & Saturday: 9 AM – 12 PM & 3 PM – 6 PM
Sunday Closed
Summer Timings (May – Sept)
Monday – Saturday: 4 PM – 7 PM
Sunday Closed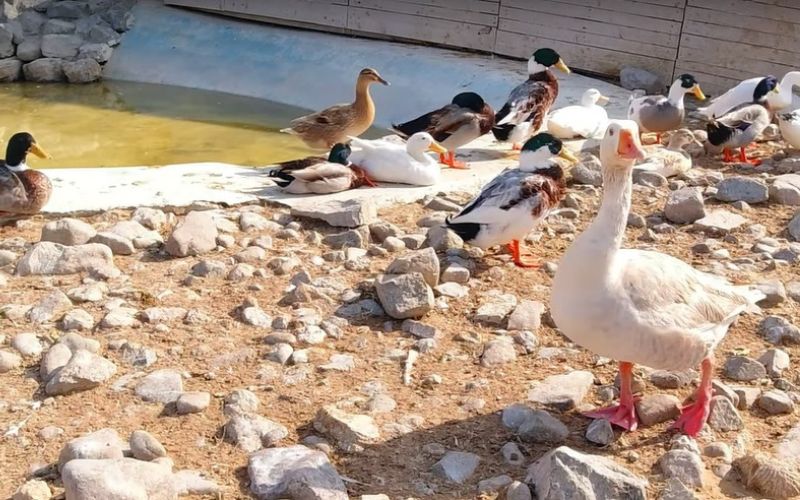 Camel Farm 
Camels are regal animals and an important part of Emirati culture. Therefore, if you want your kids to know about them and not be afraid despite their huge size, take them to the Camel Farm that's located between Al Ain Road and Al Qudra Road. This is a Bedouin-style farm where you can interact with a lot of camels, and pet baby goats, and other farm animals. The farm also offers camel rides for kids above the age of 10 and camel hugging therapy for adults. 
Location: Along the road E77 northbound, between D63-Al Qudra Rd and E66-Al Ain Rd
Damac
Hills Pet Farm 
This is the greenest petting zoo in Dubai. It also houses peacocks that you and your children can pet. Damac Hills also has animals like tortoises and deer, and your kids are definitely going to like them a lot as these animals aren't found in any other petting zoos. Kids can feed the animals and learn about their species and habits. It is a place that perfectly combines fun and learning. Plus, the greenery and chill temperature of the area makes for a nice getaway that your family will love. 
Locations:  27F5+MG4 – Al Hebiah Third The Flora at DAMAC Hills – Dubai – United Arab Emirates
Timings: Monday to Thursday: 3:00 p.m. to 8:00 p.m.
                   Friday: 8:00 a.m. to 8:00 p.m.
                  Saturday: closed (subject to change)
The Sustainable City 
Similar to the Dubai Safari Zoo, the petting zoo at The Sustainable City is one of the biggest petting zoos in the country. Apart from the usual domestic animals, your kids can also learn about bees. Yes, this place has beehives and your kids can learn important facts about bees and how important they are to nature and humanity. Oh, and one more thing The Sustainable City has that your kids will love is a dog park. Yes, you will have to drag your kids away from all the cute dogs because they will not want to leave this place. The Sustainable City is simply amazing and one of the best petting zoos in Dubai. 
Location: Block E, 2nd Floor, The Sustainable Plaza
The Ripe Market 
Now here's something that will also entice the parents as well. The Ripe Market in the Dubai Police Academy Park. While your kids enjoy the petting zoo and the dog park, you can enjoy all the wonderful, fresh fruits and vegetables that are being sold. The produce is fresh and delicious and attracts many people from all over the city. There are also crafts and many other similar products. This market is held every weekend during the winter months and has horse riding for your kids. So, this place is basically a weekend fair that has something for you and your kids.   
 Location: (Dubai Police Academy Park) Sheikh Zayed Rd – Al Sufouh – Al Sufouh 1 – Dubai – United Arab Emirates
From
Dubai Safari Park
to the Ripe Market, there are many wonderful places with petting zoos. Petting zoos can play an important part in a kid's life. If they
are scared of
animals or don't understand their importance, the petting zoo can be an important educational standpoint in their lives. Parents can also use this opportunity to gauge how well your kids can be with your future pets. So,
don't
think twice, take your kids to any of the petting zoos mentioned above and incorporate in them a love for animals and nature.