Explore and discover the wonders of the animal kingdom with a trip to the Dubai Safari Park. The Dubai Safari Park, a place where adventure and conservation meet, takes you to a breathtaking encounter with wildlife and extraordinary journey in nature.
Your Dubai Safari Park experience gets more exciting with its new addition of rare and exotic species introduced since its recent reopening. Before setting out on a Dubai Safari Park adventure trip, it would be best to know of the new species now domesticated in Dubai's animal sanctuary. Read this blog to know more!
An Animal Sanctuary in the City
Dubai is known for its remarkable architectural marvels and luxurious lifestyle. But, just recently, the city is making headlines for a different reason altogether–the thriving wildlife at the Dubai Safari Park. The Dubai Safari Park is a 119-hectare eco-friendly safari park located on Al Warqa 5 on the Hatta Road in Dubai, UAE. The park's main energy source is solar energy–an ingenious feat unique to only a few in the world.
Nestled amidst Dubai's vibrant cityscape, this magnificent animal sanctuary is home to a myriad of rare and exotic species that have been recently introduced. Currently, the park is home to around 3,000 animals, with 78 species of mammals–including 10 various carnivores and 17 primates–50 types of reptiles, and 111 kinds of birds plus amphibians and invertebrates. It is also home to some of the world's critically endangered animal species.
Upon entering its gates, you immediately get into a place of wonder as you discover a side of Dubai that goes beyond its iconic skyline. This is a place where nature boasts some of its best wonders from the animal kingdom, giving you an up-close encounter with some of the world's most amazing fauna. From the iconic Arabian oryx to the ancient Komodo dragons, from the towering giraffes to the powerful Siberian tigers, every step in Dubai Safari Park is a step closer to understanding and appreciating the intricate beauty of the animal kingdom.
Your encounter with various fauna at the park is set on a higher level as it is also a playground of adventure and excitement. Get ready to set out on thrilling safaris, witness animal feeding sessions, and engage in interactive experiences that will leave you adventure-filled safari memories. A trip to the Dubai Safari Park is an opportunity to reconnect with nature, and immerse and embrace in its serenity and beauty.
More than just showcasing nature's beauty, the park also puts conservation at the centre stage. Whether you are a nature lover, an adventure seeker, or a curious explorer, the Dubai Safari Park is sure not to disappoint. It's a sanctuary where endangered species find refuge, where education and awareness thrive, and where amazing encounters with rare and exotic animals take place.
Rare and Exotic Animals at the Dubai Safari Park
Now, it's time to get to know some of the animals that have newly inhabited the Dubai Safari Park. Some of these fauna are critically endangered while some are vulnerable. A trip to the park is not just all about the adventure. The park also educates visitors about the existence of these rare species.
Arabian Oryx: The Pride of Dubai's Deserts
Let's begin our wildlife expedition with the iconic Arabian oryx, a species considered extinct in the wild during the early 1970s. However, thanks to intensive conservation efforts, these delicate creatures have made a grand comeback in Dubai Safari Park. Characterised by its impressive long, straight horns and striking white coat, the Arabian Oryx stands as the pride of Dubai's deserts and symbolises the conservation success story of the UAE. Visitors and park-goers can witness these graceful animals roaming freely in the park's vast enclosures designed to mimic their natural habitat.
African Elephants: Encounter with the Gentle Giants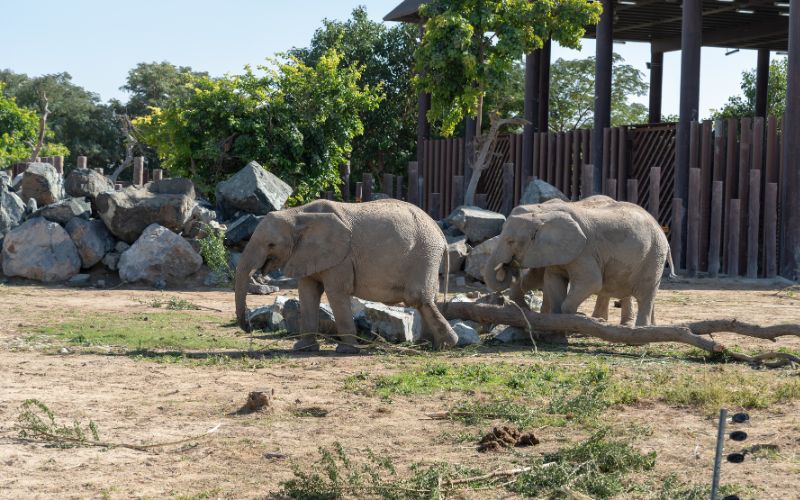 Be filled with awe as you meet the African elephants in Dubai Safari Park. These magnificent creatures have been brought to the park from their natural habitat in Africa for guests to get an up-close and personal experience with these gentle giants. Their enormous size and remarkable intelligence will surely leave you in awe and wondrous joy. You can watch them interact with each other in a social setting. Dubai Safari Park offers a unique opportunity to learn about the conservation efforts aimed at protecting these gentle giants while providing them with a safe and comfortable environment.
Siberian Tigers: A Glimpse into the Wild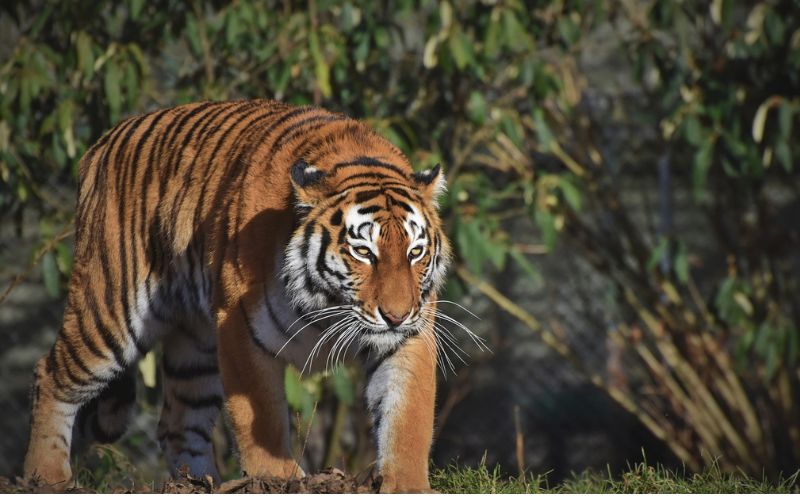 Next on the list are the Siberian tigers. Do not miss the thrilling face-to-face encounter with these powerful tigers. This critically endangered species, native to the far-east regions of Russia, now inhabited their naturalistic enclosures at the park. Their captivating striped coats speak of elegance, and their piercing eyes give you a glimpse of the challenges they face in the cold wilderness of the Siberian region. Dubai Safari Park's commitment to preserving these majestic creatures is a testament to their dedication to wildlife conservation.
Komodo Dragons: The Ancient Reptiles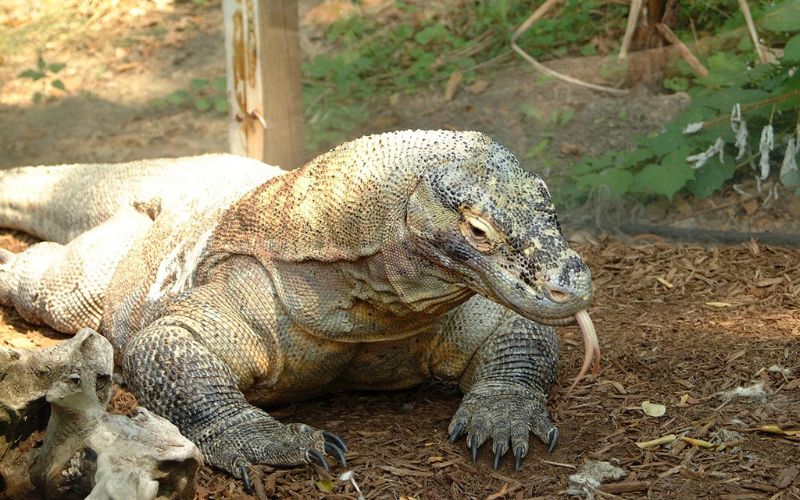 Have a glimpse of the prehistoric past with an up-close encounter with the ancient Komodo dragons. These impressive and prehistoric reptiles, known as the largest living lizards today, are native to the Indonesian islands. They dominate their surroundings with their powerful jaws and venomous bite. Dubai Safari Park provides a safe haven for these endangered creatures, allowing visitors to observe them up close, and gain knowledge of their behaviour and natural habitat.
Arabian Sand Gazelles: The Desert Gems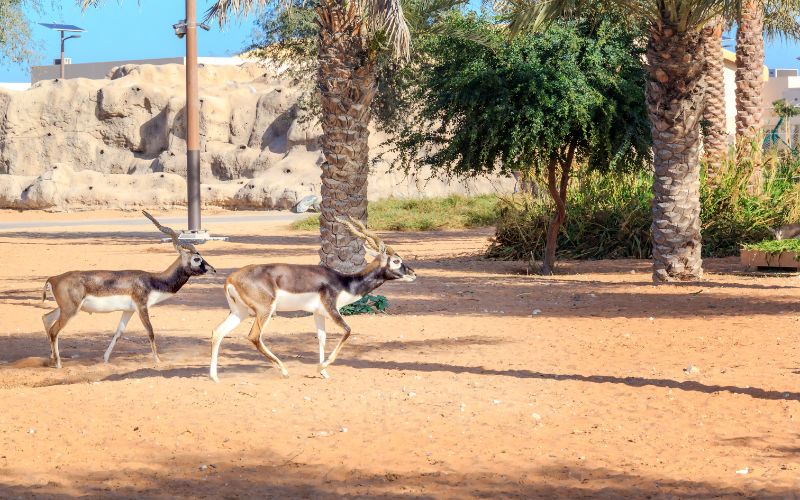 As part of its celebration of the native wildlife of the region, the Dubai Safari Park showcases the graceful Arabian sand gazelles. Although not endangered, these desert gems are considered vulnerable. Their population is dwindling. These agile and elegant creatures are perfectly adapted to the harsh desert environment, making them an integral part of the Arabian Peninsula's natural heritage. Their curved horns and sandy coats blend seamlessly with the arid landscape. Visitors can witness their incredible agility as they gracefully navigate the dunes in specially designed enclosures at Dubai Safari Park, while also learning about the park's efforts to protect their delicate ecosystem.
Giraffes: Towering Graceful Elegance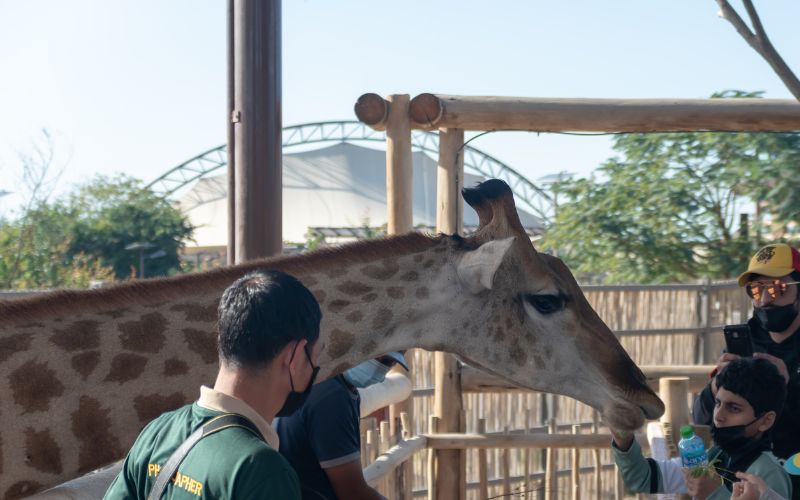 Last on the list are the giraffes. Their towering elegance is undeniably enchanting. Witness these tall and graceful creatures grazing in Dubai Safari Park. With their incredibly long necks and unique coat patterns, giraffes are truly mesmerising creatures. Visitors can witness their distinctive behaviour, such as their gentle and sociable nature, as they interact with other members of their herd. The park provides ample space for these majestic animals to roam freely, ensuring they have a comfortable and natural environment.
The Park's Commitment to Wildlife Conservation
Dubai Safari Park stands as a testament to the city's commitment to preserving and showcasing the incredible diversity of wildlife. Through meticulous conservation efforts, this park has become a sanctuary for numerous endangered species, allowing visitors to witness these remarkable creatures up close. From the iconic Arabian oryx to the breathtaking African elephants, the park offers a unique opportunity to learn about these animals and the challenges they face in the wild.
By visiting Dubai Safari Park, locals and tourists alike can not only marvel at the beauty of these new species but also gain a deeper appreciation for the importance of wildlife welfare and conservation. The park serves as a platform for education and awareness, inspiring visitors to take action in their own lives to protect our natural world and most especially the wildlife.
Fun-filled Activities at the Park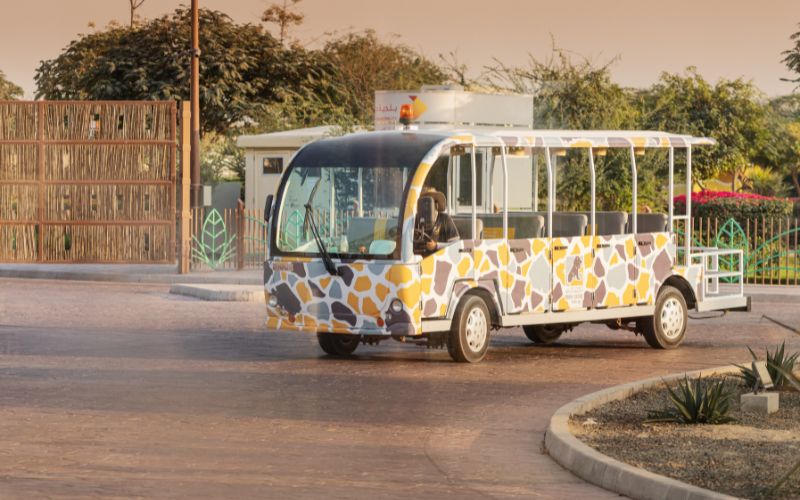 Aside from the breathtaking sights of the wildlife, Dubai Safari Park offers you a lot of fun-filled activities to enjoy from. Here are some activities to enjoy at Dubai Safari Park!
Safari Drive – Embark on a journey to the wildlife by traversing the different zones of the safari park. Hop on a safari vehicle and witness the immense beauty and wonder of the wild.
Animal Feeding – Get up close with some animals in the park during feeding sessions. Hand-feed the various creatures from the wild with guidance from experienced staff members.
Wildlife Shows – Enjoy captivating wildlife shows filled with information about the natural behaviour and talents of some of the park's inhabitants. From acrobatic birds to educational demonstrations, these shows are as insightful as they are entertaining.
Kids' Farm – Perfect for youngsters, the Kids' Farm is a delightful interactive zone where children can learn about and interact with friendly farm animals.
Adventure Zone – For adrenaline-seekers, the park's adventure zone offers exciting activities like zip-lining, rope courses, and wall-climbing. These outdoor activities are sure to test and challenge your skills.
Whether a tourist or a local, the Dubai Safari Park calls you to an exciting journey of discovery. Unleash the inner explorer in you and heed the call of the wild!
FAQs
How do I get to Dubai Safari Park?
You can get to Dubai Safari Park either by road or by metro. If you're driving a car in Dubai, you can easily get to the park as it is accessible by road. A VIP parking ticket at the park costs AED 50.
You can also get to the park by metro. Take a metro to the Creek Metro Stop on the Green Line and from there hire a taxi to reach the park. The taxi ride from the Creek metro station to the park by taxi is about 15-20 minutes and will cost around AED 25-30.
How much is a ticket to Dubai Safari Park?
Ticket prices for Dubai Safari Park vary, depending on the admission ticket you want to purchase. A Day Pass ticket costs AED 50 for adults, and AED 20 for children. It comes with an Arabian Desert Safari ride, live shows, and a Kids' Farm access.
On top of those, a Safari Journey ticket comes with an unlimited train ride and a half-hour guided Safari journey on bus. A ticket costs AED 90 for adults and AED 35 for children.
Children below 3 years of age, and People of Determinations (POD or PWD) with two companions are free of admission. POD are eligible for Day Pass tickets only.
Aside from the Day Pass and Safari Journey tickets, Dubai Safari Park also offers a variety of tour packages. See your options on our website www.safariparkdubai.com.
Are there restaurants inside the park?
Yes, visitors can dine at any of the various restaurants inside the Dubai Safari Park. The park also has designated picnic areas. Visitors can enjoy their meals or snacks while surrounded by nature's beauty.