Dubai Safari Park, with over 3,000 species spread across 119 hectares, is a popular destination for wildlife enthusiasts. The park's six villages include Asian Village, Arabian Safari Village, African Village, Explorer Village, Kids Farm, and Al Wadi, each providing a dwelling for animals. Visitors are immediately drawn by the stunning surroundings, fascinating exhibits, and personal encounters with wildlife when visiting Dubai Safari Park. Visitors to the park can enjoy experiences such as King of Safari, Safari Journey, Jungle Safari, and Breakfast with Birds.
The Dubai Safari is also a hotspot for exquisite gastronomic adventures. While exploring the park, you may crave a delicious meal to complement your wildlife adventure. Dubai Safari Park leaves no stone untouched. The park has several excellent eateries that appeal to every visitor's taste and preference. The Dubai Safari is also a hotspot for exquisite gastronomic adventures. If you plan a visit to this remarkable location, do make sure to check out Dubai Safari food options. Whether you are craving traditional Arabic cuisine or international fusion dishes, there is something to satisfy every palate. Let us delve into the Dubai Safari restaurants and cuisines.
1. Al Ain Square Restaurant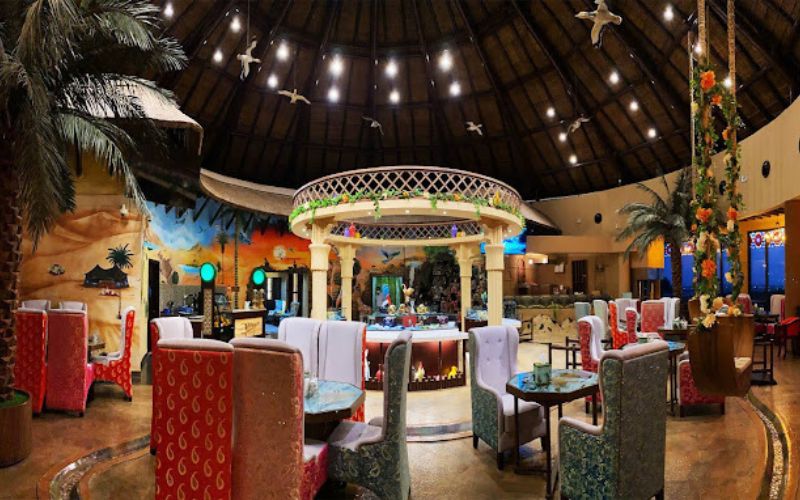 Al Ain Square Restaurant, located within the park, provides authentic Emirati food. You can savor the rich flavors of classic Emirati cuisine, such as delicious kebabs and aromatic biryanis. Do not miss the chance to experience the local delicacy, 'Harees,' a delectable combination of beef and wheat cooked to perfection. Al Ain Square Restaurant's atmosphere immerses visitors in Arabian culture, making it an ideal location to enjoy Emirati hospitality and cuisine.
2. Chillax Cafe
Chillax Cafe, located near the orangutan enclosure, is an excellent choice for visitors who want to immerse themselves in nature while enjoying delicious food. This cafe serves smoothies, milkshakes, croissants, pastries, and icecreams.
3. Al Maha Restaurant
Al Maha Restaurant in Arabian Village serves a variety of Arabic and international meals. The restaurant has indoor and outdoor seating, making it a stunning location for a delightful meal, overlooking the flamingo pond and surrounded by the park's natural beauty. The restaurant serves tender meats to crisp salads, soups, shawarma, and falafel.
4. Oasis Grill
If you are in the mood for some barbecue, go to Oasis Cafe in the African Village. This grilled delicacy restaurant specializes in succulent steaks, grilled meats, salads, and sandwiches. The open-air seating area of the restaurant, overlooking the lion enclosure, allows you to enjoy your lunch while basking in the surroundings.
5. La Marquise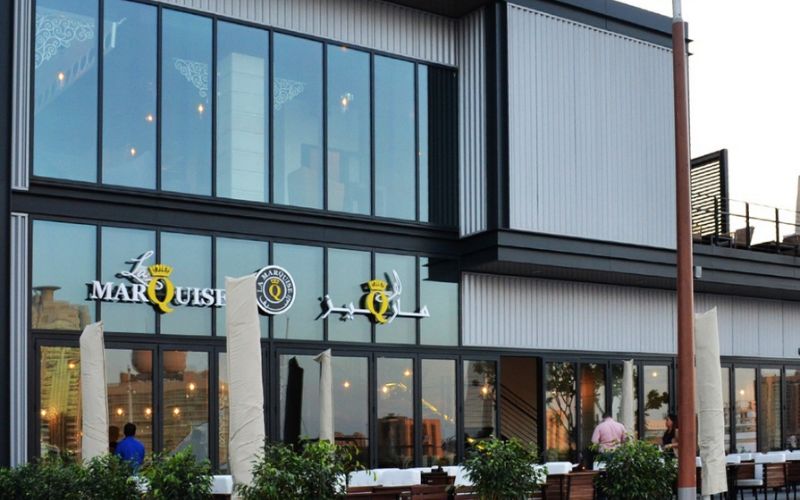 La Marquise, located at the grand entryway, serves Continental and Arabic cuisine. It is a fine dining restaurant in Dubai Safari Park that serves the delectable flavors of Lebanon. This Lebanese restaurant serves the best shawarma and Mezza in a cozy atmosphere.
Opening hours: Daily From 8 AM–5 PM
6. Chai & Co.
Chai & Co. is a casual-dining restaurant serving Indian comfort cuisine and beverages. Recharge your batteries with energizing foods and drinks. From fresh smoothies to burgers and fries, it is the spot to stop for a quick snack. Enjoy a cup of fragrant coffee or a delectable savory dish while admiring the tranquil surroundings of Dubai Safari Park.
7. Bait Al Qadeem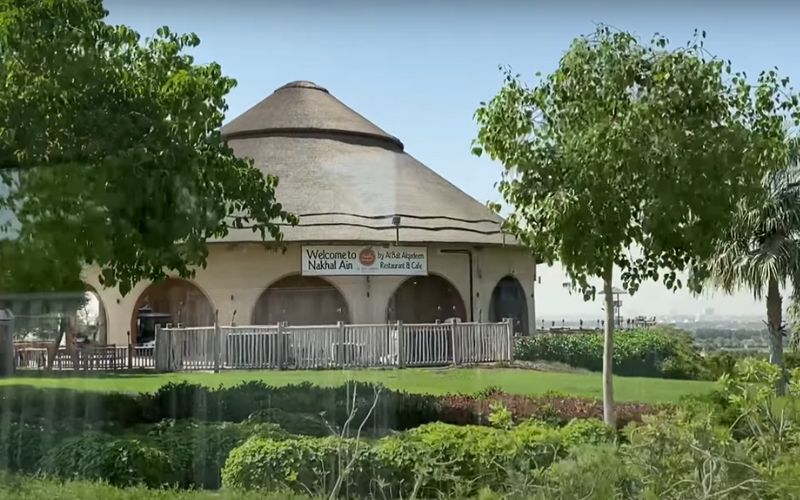 Bait Al Qadeem, meaning "Old House," is close to Chimpanzee Stop. The menu includes a range of local cuisines influenced by different communities in Dubai, along with Arabic and Persian cuisine. From succulent grilled meats to flavorful vegetarian options, The Bait Al Qadeem caters to every palate, making it a must-visit place for food lovers. The restaurant is well-known for its distinctive cultural and historical concept. It is a culinary gem that provides an unforgettable dining experience, with stunning views of the park's wildlife and a charming ambience.
Opening Timing: Daily from 8 AM– 10 PM
8. Oregano
Oregano is an Italian restaurant located in African Village Plaza. It is a must-visit restaurant in Dubai Safari Park, with open-air seating and rustic decor that gives it an al fresco vibe. The restaurant's menu is inspired by authentic Ligurian cuisine. Try the Salt & Pepper Calamari, Bruschetta Pomodori, Spaghetti Positano, Vesuvio, and the popular Nonna's special.
Operating daily:  From 11:00 AM – 05:00 PM
9. Local House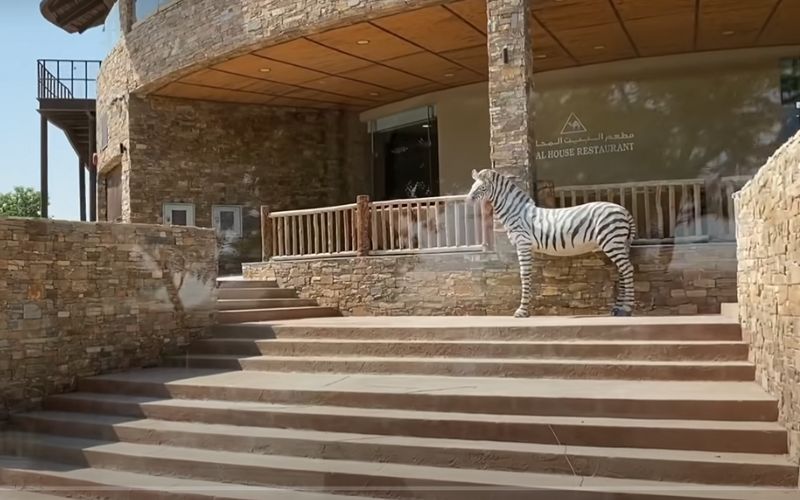 The Local House, located in Explorer Village, provides traditional Mediterranean food. The recipes of the dishes served in the restaurant have been passed down through the years from one era to the next, preserving the Mediterranean tradition. The ambience of the location reflects the region's history. It is one of the few restaurants that serves genuine camel meat dishes.
Opening Timing: Daily From: 09:00 AM – 10:00 PM
10. Adventure Valley Cafe
The Adventure Valley Cafe, located in Adventure Valley, serves pizza, spaghetti, burgers, and beverages such as Lavazza coffee. Visitors may sample sweet delights like waffles, crepes, and Italian gelato. This cozy restaurant serves fast food favorites, including burgers, fries, and sandwiches. It is ideal for refueling and recharging before continuing your trip at the Dubai Safari Park. The Adventure Valley Cafe is popular among families due to its lively environment and delectable snacks.
Opening Hours: Daily From 10:00 AM- 04:00 PM
11. La Venecia
La Venecia is a place where you can feast on exquisite Italian food. The restaurant sells a variety of pizzas, including Classic Cheese Pepperoni Hawaiian Veggie Supreme, Barbeque Chicken Supreme, and others. Kids enjoy coming here because they can customize and add their favorite toppings to their pizzas. Visitors can gaze at the birds' aviary while enjoying pizza and spaghetti.
12. Safari Ice Cream Parlor
A visit to Dubai Safari Park would be incomplete without a visit to the Safari Ice Cream Parlor. This fantastic parlor near the main entrance serves a wide range of ice creams, sundaes, and milkshakes. Safari Ice Cream Parlor provides something to fulfil any ice cream lover's requests, whether you want basic vanilla or unique flavors like saffron and rose. Take a break from the heat and enjoy a cold, refreshing treat at this charming establishment.
Dubai Safari Park not only takes you up close and personal with a wide variety of exotic wildlife but also offers an exceptional culinary journey. Each of these restaurants at Dubai Safari Park provides a distinctive dining experience, ensuring that all visitors' tastes and preferences are met. Whether you are looking for traditional Emirati cuisine, international delights, or a family-friendly atmosphere, these restaurants provide a delectable gastronomic adventure amidst the park's wonders. Indulge in the flavors of the Dubai Safari Park food, ambience, and unique dining experiences that will make your visit to the park memorable.